13 amazing facts about the Elizabeth line - plus a new book to help you explore it
13 amazing facts about the Elizabeth line - plus a new book to help you explore it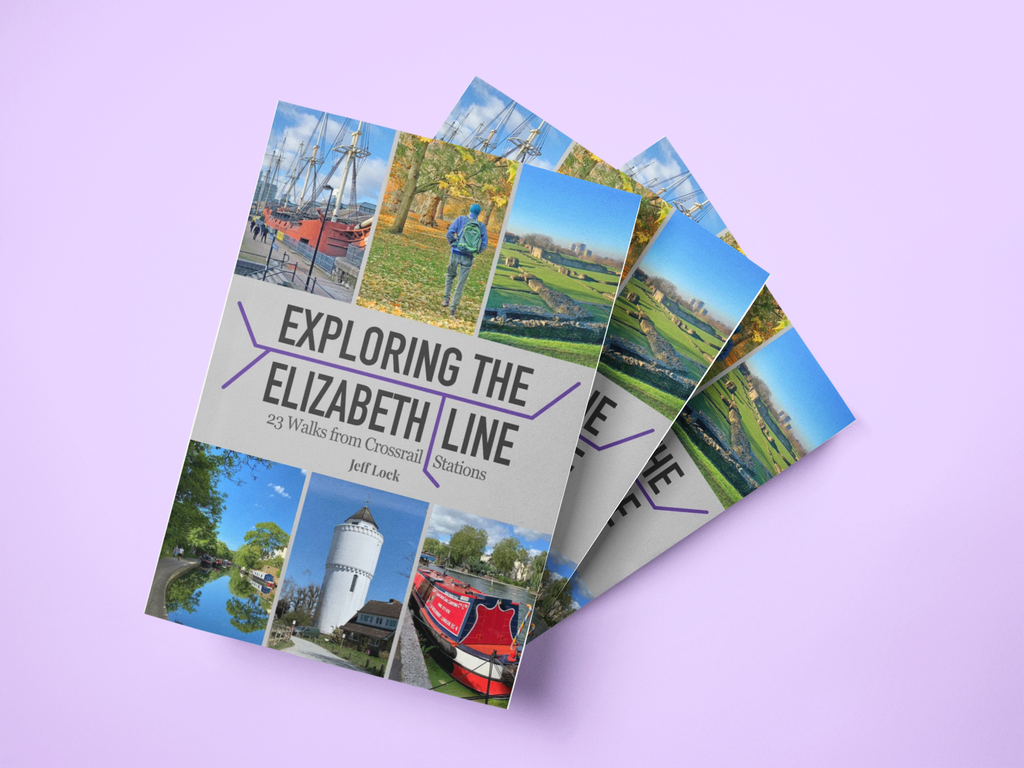 A direct rail link from east to west across London was a vision for over 35 years, and with the arrival of the Elizabeth line in May 2022 it finally became a reality.
The opening of this line, with its improved connectivity and shorter journeys, is great news for walkers – never before has it been so easy to get out and explore new places and see new sights. 
Our new book, Exploring the Elizabeth Line: 23 Walks from Crossrail Stations, contains loads of ideas for days out and things to do, opening up parts of London & the Southeast you might previously not have considered. 
To celebrate, here are 13 amazing facts about the Elizabeth line: 
1. From end to end, the Elizabeth line stretches for more than 60 miles - from Reading in the west to Shenfield in the east.
2. The Elizabeth line serves a total of 41 stations - 10 of them new.
3. The Elizabeth line is estimated to have cost £19bn - the original budget was for £14.8bn.
4. The Class 345 trains, built by Derby firm Alstom, have a top speed of 90mph, but mostly run at about 60mph in the central section of the line. They mostly drive themselves.
5. The whole Elizabeth line can be operated by a single controller.
6. Over 930km of cable supplies power, lighting and ventilation systems to the railway.
7. More than 200,000 tunnel segments were used to line the tunnels.
8. Each train is approximately 200 metres long - that's one and a half times longer than the previous longest train in operation.
9. Thanks to the Elizabeth line, another 1.5 million people will now be within a 45-minute commute of the major employment areas of the West End, Canary Wharf and The City.
10. The Elizabeth will increase central London rail capacity by 10%, delivering an extra 200 million passenger journeys per year.
11. An estimated 7 million tonnes of material have been excavated during the railway's development.
12. Much of the earth excavated during the process was shipped to Wallasea Island in Essex where it was used to create a nature reserve run by RSPB. It is now home to thousands of birds.
13. Many archaeological discoveries were made when clearing ground for the Elizabeth line. These include: a mass grave at Liverpool St, thought to be for 17th-century plague victims; a woolly mammoth jaw bone at Canary Wharf; Roman treasures at Liverpool St and Moorgate; shards of flint suggesting human settlement on the Thames 8,000 years ago. 
---
Ready to get out and explore the Elizabeth line yourself?
Here are just a few of the highlights from our new book Exploring the Elizabeth Line: 23 Walks from Crossrail Stations:
Hidden alleyways & dreamy squares in central London 

Panoramic views of the London skyline at Abbey Wood 

History & architectural splendour at the likes of Greenwich & Whitechapel 

Wide-open spaces & waterways of the Loddon Valley, Richmond & Reading 

London's iconic green spaces including Green Park, Hyde Park & more 

Peaceful countryside around Brentwood, Ealing & Romford 

Classic routes along the River Thames at Maidenhead & Taplow

The impressive modern architecture & waterways of Olympic Park